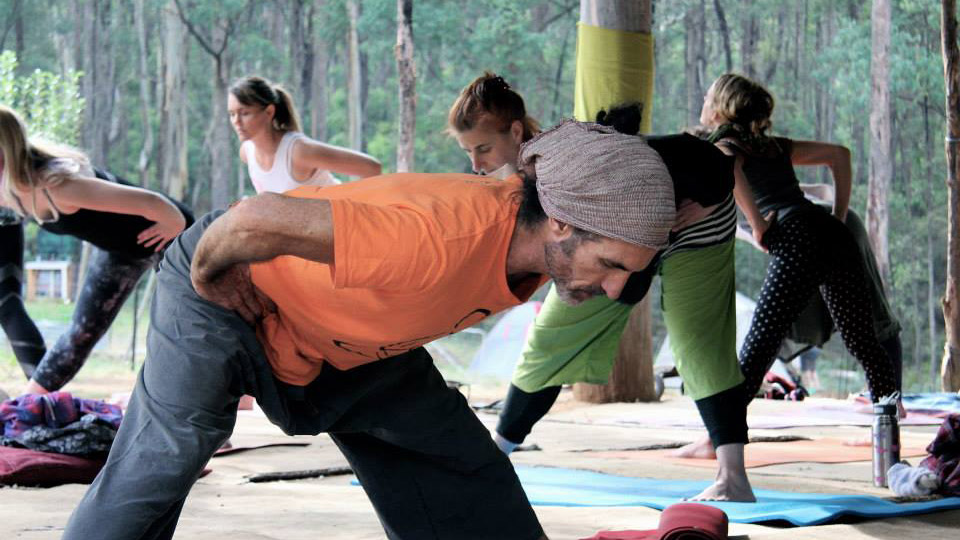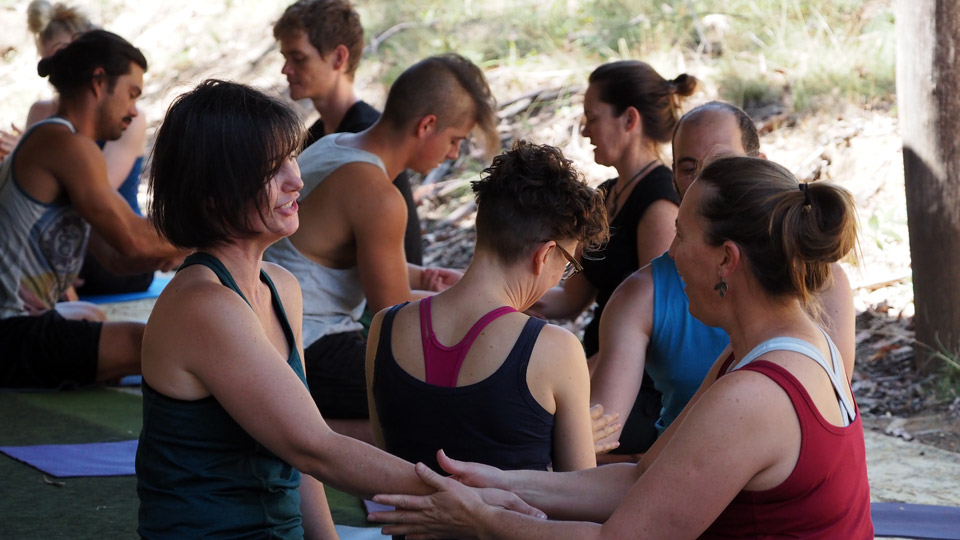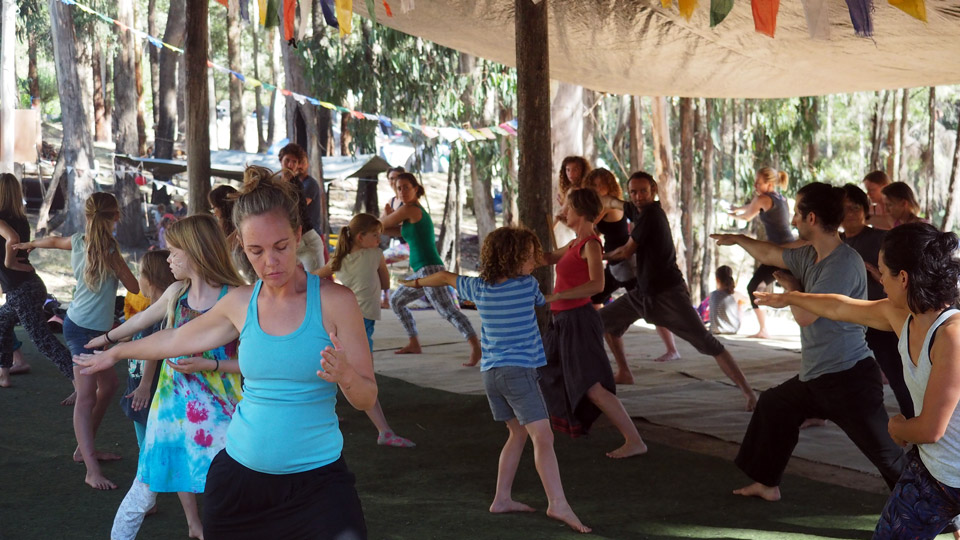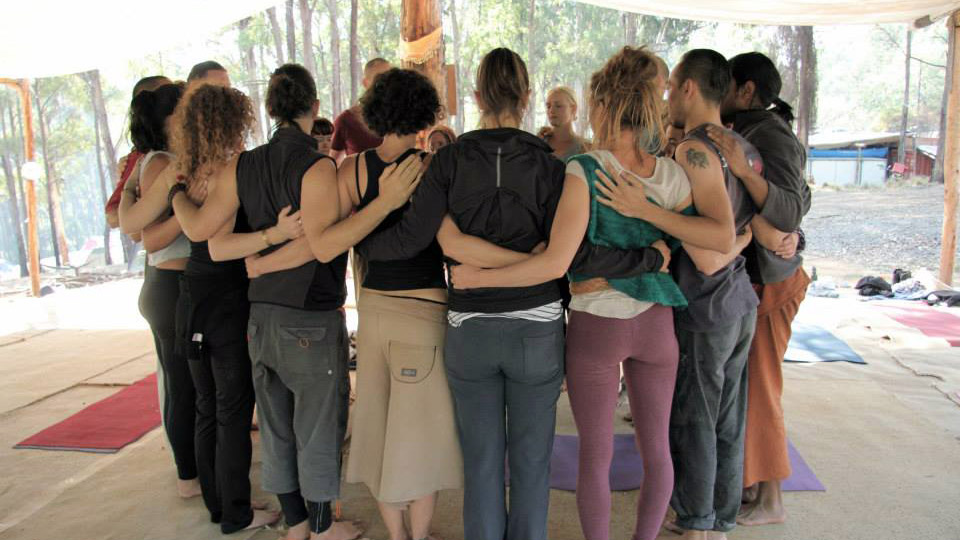 The schedule of workshops for the March 2019 Yoga Camp is being finalised and will be published here soon…
In the meantime, you can get a sense of what to expect from the following list of workshops from the 2018 Yoga Camp:
Acro Yoga
Teacher: George Butcher
Partner work and Yoga, all levels
Bring out your inner child in this Acroyoga Workshop. Acroyoga is, in essence, a blending of the wisdom of yoga, partner acrobatics and Thai massage. In this 1 hour introductory foundation workshop. We will FUNdamentally focus on having fun exploring building trust, cooperation, concentration and  the 3 key elements of acroyoga: flying, basing, and spotting.
Gentle Hatha Flow Yoga
Teacher: Kimberley Roberts
Yoga Class: Beginners, All Levels
Gentle Hatha is an all-levels sensory immersion of body and breathing, that cultivates body awareness, life sensitivity and deeper intimacy with yourself and the natural world. A perfect afternoon letting go, the class includes gentle asana, deep rest, breath-work, and meditation.
Hatha Flow Yoga
Teacher: Peter Cohen
Yoga Class, All levels
A traditional slow moving breath-guided practice that integrates principles of emotional giving and receiving to create a nourishing journey of passion and authenticity. This breath-focus embrace of life and flowing movement cultivates a deeply surrendered vibrant feeling, suitable for meditation and surrendering into stillness.
I AM Yoga Nidra
Workshop, All levels
I AM Yoga Nidra (Amrit Yoga Institute) is designed as more than a relaxation. It is a meditation technique that not only relaxes the body, but creates a different relationship with stress producing thoughts and emotions. It is designed to guide the practitioner to recognise the silent place of being that always resides within us. The I AM method focuses primarily on quieting the mind and boosting the energy flow in the body (prana). This released energy in the body increases the healing potential available during yoga nidra. That is why this style is often known as "the deep one".
Kundalini Yoga Basics
Teacher: Vicky Basdeo
Yoga Class, all welcome
Come learn three basics of Kundalini yoga: Connecting with breath, spine and rhythm. This class will include a revitalising self-massage, spinal warm-ups and a sound relaxation meditation including gong, crystal bowl and chanting.
Nada (Sound) Yoga
Teacher: Chakradhyan
Meditation/Chanting, All levels
Discover how sound & music can be used to connect to the heart. Experience the group connection & energy that can be built through singing, breathing & dancing together.
Pranayama, Mudra and Bandha
Teacher: Swami Taraprakash
All levels welcome
Connect to the vital force and extend its length, learn how to hold that pranic energy in one place and so increase still more the pranic capacity. Using different mudras to rest the mind on the breaths capacity allows one to settle deeper into oneself. Remove the inner clutter, cleanse ones self and come to a greater understanding of your dharma. Fasting is important for this class. Please come with an empty stomach…lunch will be amazing!
Vinyasa Flow Yoga
Teacher: Peter Cohen
Yoga Class, All levels
Powerfully flowing and breath-guided, vinyasa yoga builds heat and softness through a steady and flowing practice. After sustaining for a time, the practice culminates in deeper poses, seated pranayama, and an effortless heart meditation.
Yin and Yang Yoga
Teacher: Ilana
Yoga, All Levels
The perfect balance between our feminine and masculine energy.
Most people believe Yin is more of an afternoon or evening class, but when we do Yin Yoga early in the morning, our muscles have not yet woken up, so a Yin practice before an active yang practice allows the stretching to settle deeper into our tissues. Allow your muscles, facia, body and mind to awaken softly for a grounding and nourishing start to your day.
Dru Yoga
Teacher: Nathalie Brewer
Level: All levels welcome
Dru Yoga is a graceful and potent form of yoga, based on soft flowing movements, directed breathing and visualisation. A Dru Class with Nathalie Brewer will guide you through a dynamic flowing sequence that will leave your whole being feeling rejuvenated.
Handstand Workshop
Teacher: George Butcher
All levels welcome
Get inspired and prepare to have fun as we get upside down acroyoga style. Working through solo drills and partner work we will focus on learning  beneficial  alignment and balancing techniques.  The workshop will equip participant's with exercises and skills which are able to be taken with them as they continue on their handstanding journey and overall yoga practice.
Kalari Healing
Teacher: Ramona
Yoga, All levels
Integrated Wellness Combining Evidence-Based Medicine and Ancient Indian Philosophies.
This workshop will explore:
The basics of Ayurveda
Creating a daily routine
Musculoskeletal conditions from a holistic perspective (especially for the movers and shakers!)
Neti Yoga Workshop
Teacher: Mark Blyss
Workshop, All levels
Neti is Sanskrit for 'nasal cleansing'. Learn and practice this ancient cleansing technique and cleansing asanas to release toxins and energy blocks held deep in the bod and in the mind. A wonderful workshop to cleanse for the day ahead.
Partner Yoga
Teacher: Mark Blyss
Yoga Class, All levels
Partner yoga allows us to support and receive while in a yoga posture. It cultivates body awareness, sensitivity to touch, and allows us to explore using the support and body weight of another person. And, of course, it can be a lot of fun. Come with a friend or make one in class.
Yoga with Mark
Teacher: Mark Blyss
Yoga Class, All levels
This practice combines physical postures with conscious breath awareness and mindfulness. Breathing practices are utilised to activate life-force and develop finer states of awareness and experience. The class concludes with a short meditation. This class is gentle and nourishing and aims to activate vital energy, soothe the nervous system and deeply nurture body and mind.
Yoga and Philosophy
Teacher: Peter Cohen
Discussion, All Welcome
Covering the ancient principles of emotional giving and receiving that became known as hatha yoga. Following the Yoga sutras and the advice of great yogis we transform the physical hatha yoga practice into a genuine and divine surrender — a personal expression of passion and authenticity — in breath and in motion.
Yoga Nidra
Teacher: Mark Blyss
Meditation/Chanting, All levels
Yoga Nidrais a guided lying down relaxation practice promoting deep rest and rejuvenation. This session will include some very gentle preparatory asana and conclude with a breathing practice to ease you into the rest of your day.
Cultivating the Divine Feminine 
~ A women's circle
Teacher: Nathalie Brewer
Learn new ways of Speaking, Listening and relating to others.  It is a place where we discover and integrate new blueprints that serve the women we are becoming.  As each woman claims her seat in the circle, we come together as equals united by our common purpose.
Early morning Meditation
Teacher: Taraprakash
Level: All levels
A 20 min pratyahara class connecting to the inner self at this auspicious time of the day, when the inner and out worlds are quiet and still.
Exploring the Meaning of Manhood
~ Men's circle
Teacher: Murray Goodchild
Workshop, All levels
The circle is about exploring ideas, assumptions, expectations and projections about who men are supposed so that we can create a clearing into which an authentic expression of the masculine may emerge with consciousness and spontaneity.
Macrame Jewellery Making
Teacher: Maya Lange
Crafts, All welcome
Creation of necklaces with stones, beads and macrame technique (knotting). Suitable for older children (7+) and adults
(limit of 10 people. Put your name down)
Unlocking the Healing Power of Conscious Walking
Teacher: Murray Goodchild
Workshop, All levels
Walking is one of the fundamental ways we express ourselves because our attitudes are enacted in every step.
With every step we either reinforce these attitudes or, with the right kind of awareness, utilise the opportunity to unlearn outdated modes of being to arrive in a spontaneous, creative engagement with the present.
The good news is that you don't need to add any more practices to your daily routine. If you can walk, you can apply the principles outlined in this workshop and receive great benefits.
Havan
All Welcome
Havan is a traditional fire ceremony practiced to bring about purification & transformation to the individual & the environment (Havans are conducted in special fire pits called kunds where different offerings are made including: wood, ghee, samagri (a crushed mixture of woods, spices and aromatic substances), flowers, fruits, rice etc. The Havan will be conducted in conjunction with group chanting of Mahamrityunjaya mantra (healing mantra).
Kalari Martial Arts
Teacher: Ramona
All levels welcome
Join us in exploring this ancient traditional indigenous healing and martial art that originates from South India.
These workshops will explore:
An introduction to Kalaripayattu, including warm ups and preparation for practice
Kalari kicks and basic combinations
Practice of the first Kalari salutation form –  a prayer to 4 directions
Kirtan (sacred sound)
Teachers: Sun Hyland and Chakradyana
All Welcome
Deep emotional states can turn the mind inward & one pointed. This is essentially what we wish to achieve in meditation. Kirtan is the process of using emotional feeling (Bhavana) to achieve deep absorption (Samadhi). We do this through the mechanism of Nada Tantra, the expansion of consciousness through the awareness of sound vibration. With this we may experience ecstatic states.
Opening and Closing Circle
Facilitator: Nathalie Brewer
Honouring the original custodians of this land, Mother Earth, Nature, the Elements and all of humanity, Nathalie will lead us thru beautiful opening and closing circle rituals to begin our weekend journey and bring it to a close.
The White Snake Story
Teacher: Vicky Basdeo
Level: All Welcome
The 'White Snake' story spans 3 continents and comprises of 3 parts: 'Nagina' – a dreamtime story, 'Love song' – comprising of 3 short poems by Rumi and finally 'Adi Shaki' – a cyclical mantra/song/dance/story of the Vedic white snake – Kundalini.
Animal Feeding
Teacher: Mark Blyss
Level: All kids
Mark will take kids and parents on an animal feeding tour around the farm where the children will get to feed, pat and interact with the beautiful animals that live at Shambhola.
Cape Making and face painting
Teacher: Kellie Curtis
Level: Kids – 5 years +
Kellie offers the kids an opportunity to get their super-yogi on with cape making and simple white facepaint. The simplicity is there to evoke our little ones imaginations while getting bendy and crafty, enlivening the natural super powers and gifts within.
Where the wild things live
~ nature art
Teacher: Andrea Lange
Level: Kids 3+
Create with what you find in nature. We will go on a nature treasure hunt and find our materials for our amazing craft creations.
Bubbles With Alana
Teacher: Alana Duncan
Level: All Welcome
In this session Alana will create large masses of swirling colour known as bubbles. They are very visually beautiful, the way they reflect the light and change shape constantly with the wind. Also they can be chased and popped to great amusement.
Rock Painting and Adventures
Teacher: Alana Duncan
Level: 3 years +
This session is about helping shape our memory. We will go on a walk around the bush get everybody to remember a rock that felt special to them, then retrieve it. Then we will paint that rock together as a group. Then as groups we will make stories with the rocks. Using our chunking memory to retell the stories.
Where the wild things are created
~ Creations with recycled material
Teacher: 

Andrea Lange
Level: Kids (2 years+), Adults welcome
Create your very own wild thing. Let your imagination go wild and create your own wild wonderful pet or thing! We will use recycled materials from reverse art truck. A great message is included about recycling and reusing. From age 3 but younger ones can bring their mum or dad to help them. Suitable even for older kids.